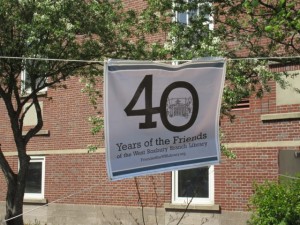 On a perfect spring afternoon in early May 2015, the Friends honored Board co-founder Alice Hennessey and past Board members at a Lawn Party celebrating the 40th anniversary of the Friends group. City Councilor Matt O'Malley presented Hennessey with a City Council resolution acknowledging her contribution to the community and also a citation from the Massachusetts House of Representatives on behalf of Rep. Ed Coppinger (who could not attend because he was recovering from surgery). Both honors made note of Hennessey's dedication to the Friends and many other neighborhood groups, and in a heart-felt and detailed recognition, O'Malley thanked not only Alice, but her husband, Bill, for his role for many years and also remembered and commended the late Mayor Menino for his unceasing support of our branch library, as well, including a thank-you to Angela Menino for attending the Lawn Party that afternoon. The Friends gave Hennessey a watercolor of the library building's facade painted by local artist Ellen McGill as a token of our gratefulness for her vision in founding the group and her many years of support and dedication to it.
In addition, the Friends gave away copies of the book The Lincoln Letter by local author William Martin, who was present to sign them. All past Board members who attended had the opportunity to sign a large faux book for posterity's sake, and many photographs of Friends events and members—from the distant past and the nearer years—were mounted on boards at the party for all to enjoy.
The occasion offered food and drink and a chance to mingle with old friends and new and made for an excellent culmination of a year-long series of events commemorating the founding of the Friends of the West Roxbury Branch Library.