The Fellowship
In honor of the contributions that author Lois Lowry has made to the literary world and of the 40th Anniversary of the Friends of the West Roxbury Branch Library, in 2015 the Friends created a fellowship award in Lois Lowry's name. The fellowship award intends to acknowledge a deserving emerging Young Adult author or illustrator. The decision to inaugurate this fellowship in Lois Lowry's name grew out of the Friends' selection of The Giver as our West Roxbury Reads 2015 community-read book. Lowry's moving and riveting keynote address in May 2015 followed a month of programming on the themes raised in The Giver. The fellowship will be awarded for 10 years, concluding in the Friends' 50th Anniversary year.
Goal: To select a recipient of a $500 award who meets the criteria of the fellowship.
Criteria: The author/illustrator must have published at least one work for the Young Adult audience. S/he must agree to visit the West Roxbury Branch Library for a presentation and book-signing event. The final winner must be able to speak at the library before June of the award year.
Selection Process: Lois Lowry; local librarians, educators, and book sellers; and Friends' Board members may participate in the selection process. Nominations will be made using an online form. The final choice of a winner will be made by the Friends' Board.
Award: The recipient of the fellowship will receive a check in the amount of $500 from the Friends upon completion of the recipient's appearance at the library. Awardees will be publicized at the library and to the greater Boston Public Library system as well as the greater Boston community.
The Winners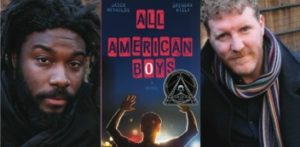 2016: Jason Reynolds and Brendan Kiely, authors of All American Boys
All American Boys grapples with the repercussions of a single violent act that leaves the characters' school, community, and ultimately, the country bitterly divided by racial tension.