Best-Selling Author Michael Pollan Engages 700 in Capstone Event
Community Partners – West Roxbury Reads 2009
Allandale Farm
Blanchard's Wine and Spirits
Evening Garden Club of West Roxbury
Fornax Bread
Gardens at Gethsemane
Green City Growers
Himalayan Bistro
Masona Grill
Newton Angino Community Farm
Paper Store
Phuket Thai Restaurant
ReadBoston
Roche Bros.
Roslindale Bakery
Slow Food Boston
Theodore Parker Church
West on Centre Restaurant
Westport Rivers
West Roxbury Historical Society
West Roxbury Saves Energy
YMCA of West Roxbury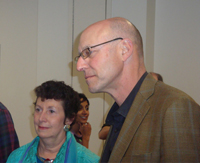 West Roxbury Reads 2009, a program of the Friends of the West Roxbury library, focused its six weeks of events on themes in the book In Defense of Food, by Michael Pollan, of Omnivore's Dilemma fame. The capstone event, on May 12, was a visit from the author himself. Pollan greeted members of the Friends at a private reception at the library, signed books, and then spoke for over an hour to a full house at the Lyndon School, across the street.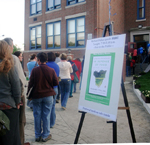 An entertaining presentation engaged the audience, who on several occasions applauded to show agreement with points Pollan made, as he explained and expanded on the theme of his book: "Eat food. Not too much. Mostly plants." After his talk, Pollan answered questions from attendees, including one about whether he worried that the junk-food industry would come after him for disparaging processed and packaged items sold in grocery stores (his answer: no, because he puts the most incendiary information in his NY Times column, and the Timeshas a flock of lawyers to protect against such actions). He also shared that his next book will be about "cooking, although it won't be a cookbook." Pollan believes that our culture's move away from cooking meals because we are so busy and are always on the run has contributed to the rise in eating nonfood items (and the concurrent rise in health risks).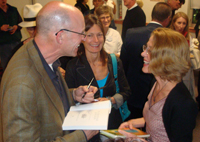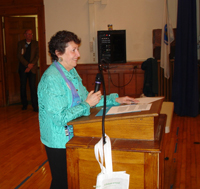 The West Roxbury Reads 2009 series in April and May included book discussion groups; a local wine tasting; nutritionist advice for children; tours of nearby farms; panel discussions with West Roxbury chefs who also offered sustainable dinners at their restaurants; and films, speakers, and workshops on the topics of slow food, urban container planting, and growing a vegetable garden.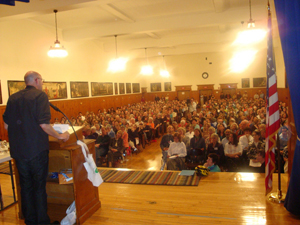 West Roxbury Reads Series


2007: March, by Geraldine Brooks
2009: In Defense of Food, by Michael Pollan
2011: The Widower's Tale, by Julia Glass